Calhoun, GA Traffic and Road Conditions
×
Warning!
Do not attempt to use any of these features while driving a vehicle.
Click any alert icons on the map to see info.
Tips
Click or touch the map to move in different directions.
If you do not see any markers on the map, try zooming in one or two levels using "+" on the top left side. However, they are not always available.
Click an incident icon on the map to get more information.
FAQs
Q
) How often is the map updated?
A) The traffic flow is updated at loadtime and upon movement outside the initial map view, or upon refresh of the page. Any incident markers are checked for updates approximately every 5-10 minutes, but you need to reload the page to load any new updates; the data provided may still be the same status/view as before. Information shown is as only reliable as how it is reported to us.


Q
) The roads are backed up or closed, but the map does not show the reason why, what's the deal?
A) Municipal traffic monitors or GPS trackers may not be available, could be offline, or reports and alerts are not syndicated to media outside of the area to use on the map. This is especially true for rural areas. You are encouraged to leave a road conditions report to help others.


Q
) I see traffic alerts in the box below for the state, but they aren't related to the area I'm in?
A) We attempt to display alerts as specific to the area as possible, however in some cases the data we receive will only allow us to provide it by county or even statewide.


Q
) Are you an official source of traffic information?
A) We are not an official source of traffic or real-time data. We have contracts and licenses to display certain up-to-date information that comes direct from some DOTs in various states, and the traffic flow on the maps is provided by Google or MapQuest. However, the data shown here should only be used for light informational and reference purposes and not to make critical decisions. Your safest option on the web is to use your state-run traffic website, or to call the DOT traffic line for your state, local authorities, or the state's 511 number if available.


Calhoun Traffic Alerts
I-75 South Metro Express Lanes Now Open
The I-75 South Metro express lanes are now open. During the weekend, the express lanes will run northbound toward Atlanta. On weekdays (Monday - Friday) the lanes will reverse at 11:00 AM (switching from northbound to southbound) and 10:30 PM (switching from southbound to northbound).
A registered Peach Pass is required to travel on the I-75 South Metro Express Lanes.
February Special Events
February 18: City of Brunswick, Glynn County: 6:00 AM – 1:00 PM: Annual Sidney Lanier Bridge Run: Southbound lanes of Highway 17, from fourth Ave to Jekyll Causeway entrance will be blocked due to a foot race. Local detours will be posted.
February 18: City of Hartwell, Hart County: 2:00 PM – 2:45 PM: Black History Parade: A parade will travel down SR 77 from Chandler Street to Richardson Street, local detours will be posted.
February 16-18: City of Atlanta, Fulton County: Filming: SR 3 between 14th street and 16th street will be blocked for noise control during filming in the area, local detours will be posted.
The closures will vary day to day: 2/16 from 1PM - 3PM and 8 PM - 5 AM. 2/17 from 8 PM - 7 AM
For Georgia State Official 511 website visit:
GA 511
source: Georgia DOT
NaviGAtor511 on Twitter
Accident, SR 17 East/West at SR 24/Oliver Highway (Mile Post 0.6), 2 of 2 lanes blocked. #ScrevenCounty
RT @Chopper_CBS46: GA Capitol Police on scene of a chase that ended after the suspects vehicle overturned on Forsyth St near Mitchell St. #…
Accident, I-16 West past SR 73/US 301/US 35 (Mile Post 116), 2 of 2 lanes blocked. #BullochCounty #511GA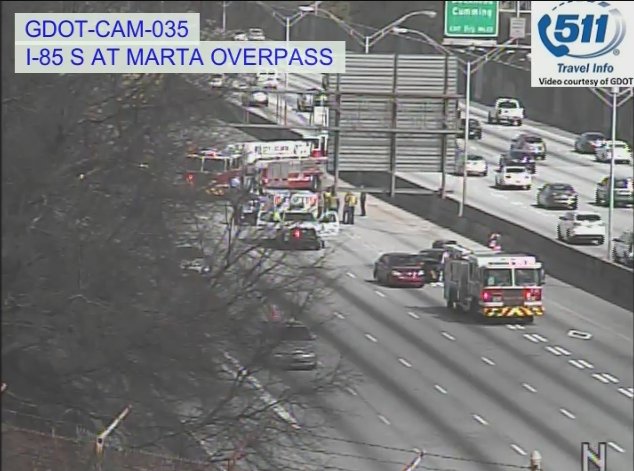 Accident, I-85 South before I-75 North (Mile Post 85.2), 4 left lanes of 5 blocked.
#FultonCounty
#511GA
https://t.co/PHItZqC8az
Accident, I-16 West past Jeffersonville/Bullard Road (Mile Post 18), 2 of 2 lanes blocked. #TwiggsCounty #511GA
RT @GDOTEastTraffic: Exit 175 detour for bridge rehab begins March 3. Work requires no more than 4 weekend closures w/ I-20 detour. @GADept…