Cedartown Traffic and Road Conditions
×
Warning!
Do not attempt to use any of these features while driving a vehicle.
Click any alert icons on the map to see info.
Tips
Click or touch the map to move in different directions.
If you do not see any markers on the map, try zooming in one or two levels using "+" on the top left side. However, they are not always available.
Click an incident icon on the map to get more information.
FAQs
Q
) How often is the map updated?
A) The traffic flow is updated at loadtime and upon movement outside the initial map view, or upon refresh of the page. Any incident markers are checked for updates approximately every 5-10 minutes, but you need to reload the page to load any new updates; the data provided may still be the same status/view as before. Information shown is as only reliable as how it is reported to us.


Q
) The roads are backed up or closed, but the map does not show the reason why, what's the deal?
A) Municipal traffic monitors or GPS trackers may not be available, could be offline, or reports and alerts are not syndicated to media outside of the area to use on the map. This is especially true for rural areas. You are encouraged to leave a road conditions report to help others.


Q
) I see traffic alerts in the box below for the state, but they aren't related to the area I'm in?
A) We attempt to display alerts as specific to the area as possible, however in some cases the data we receive will only allow us to provide it by county or even statewide.


Q
) Are you an official source of traffic information?
A) We are not an official source of traffic or real-time data. We have contracts and licenses to display certain up-to-date information that comes direct from some DOTs in various states, and the traffic flow on the maps is provided by Google or MapQuest. However, the data shown here should only be used for light informational and reference purposes and not to make critical decisions. Your safest option on the web is to use your state-run traffic website, or to call the DOT traffic line for your state, local authorities, or the state's 511 number if available.


Cedartown Traffic Alerts
April Special Events
April 2 - April 9: City of Augusta,Richmond County: The 2017 Masters Tournament: A portion of SR 4, SR 28, SR 104, and SR 402 will temporarily be affected by The Masters golfing tournament. Local detours will be posted.
April 8: City of Dahlonega, Lumpkin County: Celebration of Nursing Scholorship 5k Run: 9:00 AM - 10:30 AM: A portion of SR 9, 52 and 60 surrounding University of North Georgia will temporarily be blocked due to a foot race. Local detours will be posted.
Metro Atlanta Weekend Special Events
WEEKEND SPECIAL EVENTS
Friday April 7 2017 – Sunday April 9, 2017
Piedmont Park
Dogwood Festival (EA: 15,000)
Friday, April 7, 12:00 PM – 11:00 PM
Saturday, April 8, 10:00 AM – 11:00 PM
Sunday, April 9, 10:00 AM – 6:00 PM
Georgia World Congress Center
One Up 2017 Cheerleading (EA: 22,000)
Friday, April 7, 5:00 PM – 8:00 PM
Saturday, April 8, 7:00 AM – 8:00 PM
Sunday, April 9, 7:00 AM – 8:00 PM
Philips Arena
Hawks vs. Cavaliers (EA: 17,000)
Sunday, April 9, 7:30 PM –10:30 PM
Metro Atlanta & Statewide Weekend Lane Closures
Metro Road Work…
Construction & Lane Closures Weekend Schedule
ATLANTA-Georgia Department of Transportation projects to improve highway infrastructure throughout Metropolitan Atlanta and Statewide continue this weekend, weather permitting.
Major projects of interest that will likely impact traffic are the resurfacing projects on I-75/I-85 (Downtown Connector) and I-75, I-20, and Northwest Corridor. The lane closures will likely result in delays.
The Georgia DOT encourages motorists to call 511, visit 511ga.org , or check the 511 Georgia and Atlanta Traffic app before departing for real-time information on work status and traffic conditions. Motorists can also use the WAZE application turn-by-turn directions that consider current traffic conditions; Georgia DOT advises motorist to drive alert and prepare applications before departing from their location.
Motorists are also advised to exercise caution by reducing speed while driving through work zones.
Click the following links to view the weekend lane closures and metro Atlanta weekend events:
Other Georgia DOT work and routine maintenance will necessitate various lane closures this weekend (as detailed in the attached spreadsheets); the Department also cautions that incident and emergency repair related closures may be necessary on any route at any time. As always, drive cautiously, courteously, undistracted and unimpaired.
I-85 CLOSED between I-75 and GA 400 (Buckhead)
A major fire underneath the I-85 overpass caused a section of the roadway to collapse near Piedmont Rd. ALL LANES of I-85 North and South are currently closed from the Buford Hwy / SR 13 to GA 400. Please avoid that area.
I-85 is closed from I-75 to GA 400. Local traffic may use I-85 from the I-75/85 split up to the Buford Hwy Conn exit.
Motorists traveling northbound on I-85 from points south of Atlanta should use I-285 to bypass the affected area.
Motorists traveling southbound on I-85 from Gwinnett Co will be diverted to northbound GA 400. Through traffic should use I-285 to bypass the affected area
Motorists traveling southbound on GA 400 from north of Atlanta will be diverted to northbound I-85 or Sidney Marcus Blvd
Motorists are encouraged to utilize their favorite wayfinding app to help navigate to their destinations
UPDATE: Piedmont Rd is now open in both directions underneath I-85. There is one northbound lane open, and three southbound lanes open.
Lanes are expected to remain closed until further notice. For more information please call 511.
Below is the offical detour map for the I-85 closure in Atlanta.
Below is the official detour map of the I-85 BRIDGE closure detours.
______________________________________________________________________________________
ATLANTA— Georgia DOT Bridge Inspectors were on scene at the location of the I-85 bridge collapse overnight. Earlier this morning, a determination was made that the southbound sections of I-85 received damage from the fire requiring the replacement of those sections, as well as the collapsed section on the northbound bridge and possibly other adjacent sections.
The extent of the fire-related damage necessitates extensive reconstruction activities to ensure the safety of motorists. We began design of the known damaged sections last night and continue designs as information is received. At this time, we do not have an anticipated duration for the repairs as we have not been able to fully access the site due to hotspots, but we do know that it is expected to be a time consuming event.
The area in which the fire originated is part of the state's right of way that was utilized as a storage location for construction materials, equipment and supplies. The site was a secured area containing materials such as PVC piping which is a stable, non-combustible material. We are as eager to learn the cause of this fire as anyone, which is why we will continue to work closely and in full cooperation with fire investigators to determine exactly how the fire was started.
We ask for your continued patience as we gather more information and details on the required repairs and reconstruction activities needed to bring this roadway back to operational levels. Please visit www.dot.ga.gov, call 511 or follow us on Facebook for the latest updates.
Piedmont Road Open to Traffic
Piedmont Rd, at the point where it passes under I-85, is open once again. There are three lanes open southbound, and one lane open northbound. Click here for more information.
For Georgia State Official 511 website visit:
GA 511
source: Georgia DOT
NaviGAtor511 on Twitter
RT @GDOTEastTraffic: I-20 project Exit 194-172 almost complete EARLY! #July4 #IndependenceDay weekend 🚧🚨 removed on 🛣. Be safe 🇺🇸🎆🙌 @511Geo…
RT @ITSGA: Photos from today's @itsga meeting. Sen. Brandon Beach @beachforsenate spoke on how transportation is important to grow the GA e…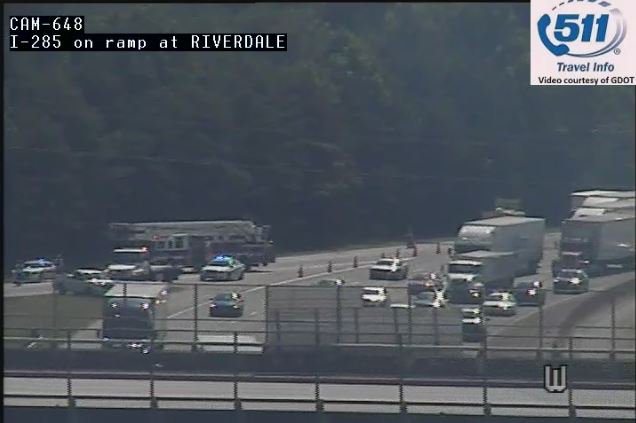 Accident, I-285 East exit to Riverdale Road (Mile Post 60), 2 of 2 exit ramp lanes blocked.
#ClaytonCounty
#511GA
https://t.co/bd99ZEoUHA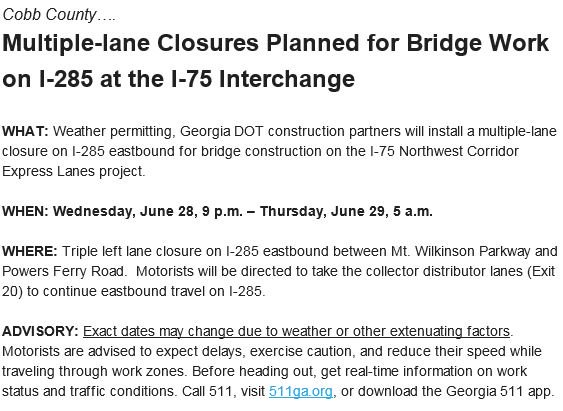 Cobb County…. Multiple-lane Closures Planned for Bridge Work on I-285 at the I-75 Interchange
https://t.co/jQkulfyw7j