Marietta, GA Traffic and Road Conditions
×
Warning!
Do not attempt to use any of these features while driving a vehicle.
Click any alert icons on the map to see info.
Tips
Click or touch the map to move in different directions.
If you do not see any markers on the map, try zooming in one or two levels using "+" on the top left side. However, they are not always available.
Click an incident icon on the map to get more information.
FAQs
Q
) How often is the map updated?
A) The traffic flow is updated at loadtime and upon movement outside the initial map view, or upon refresh of the page. Any incident markers are checked for updates approximately every 5-10 minutes, but you need to reload the page to load any new updates; the data provided may still be the same status/view as before. Information shown is as only reliable as how it is reported to us.


Q
) The roads are backed up or closed, but the map does not show the reason why, what's the deal?
A) Municipal traffic monitors or GPS trackers may not be available, could be offline, or reports and alerts are not syndicated to media outside of the area to use on the map. This is especially true for rural areas. You are encouraged to leave a road conditions report to help others.


Q
) I see traffic alerts in the box below for the state, but they aren't related to the area I'm in?
A) We attempt to display alerts as specific to the area as possible, however in some cases the data we receive will only allow us to provide it by county or even statewide.


Q
) Are you an official source of traffic information?
A) We are not an official source of traffic or real-time data. We have contracts and licenses to display certain up-to-date information that comes direct from some DOTs in various states, and the traffic flow on the maps is provided by Google or MapQuest. However, the data shown here should only be used for light informational and reference purposes and not to make critical decisions. Your safest option on the web is to use your state-run traffic website, or to call the DOT traffic line for your state, local authorities, or the state's 511 number if available.


Marietta Traffic Alerts
SR 45 closing to through traffic for bridge construction
SR 45 closing to through traffic for bridge construction

State Route 45 at Cordray's Pond and the Ichawaynochaway Creek is closing to through traffic March 19 for replacement of two 65-year-old bridges.

Construction will require closing the road throughout the limits of construction, milepost 16.5 to 17, for at least 10 months. A detour route will be posted along SR 45, SR 234, SR 55 and SR 37.

The Georgia Department of Transportation in October 2017 awarded a $9.4 million construction contract to Kiewit Infrastructure South Co. to replace the aging bridges. One is over Cordray's Pond and the other is over the pond overflow (Ichawaynochaway Creek). Both are posted with weight limits. They were designed using truck configurations that weigh less than the current legal state truck weights.
Download the Georgia 511 App
Download the Georgia 511 App for iPhone, iPad, or Android. Search "511 Georgia" in the app store.
I-285 & GA 400 Traffic Impact Alert
The Transform 285/400 improvement project is designed to help reduce traffic congestion and enhance safety in the area near the I-285/SR 400 interchange in metro Atlanta. This priority project adds new flyover ramps, new collector-distributor lanes and other facilities to aid east-west travel along I-285 and north-south travel along SR 400.
The project will improve 4.3 miles of I-285 from west of Roswell Road to east of Ashford Dunwoody Road and 6.2 miles along SR 400 from the Glenridge Connector to Spalding Drive.
Gwinnett: I-85 Express Lanes Extension Now Open
I-85 Express Lanes Extension Opens to Traffic
$178 Million Project Adds 10 Miles to Existing Corridor in Gwinnett County
The I-85 Express Lanes Extension is now open. The newly constructed express lanes in north Gwinnett County connect with existing express lanes that begin at Chamblee-Tucker Road in DeKalb County.

"We're excited to open this extension of the I-85 Express Lanes that will not only provide an additional choice for motorists that can reduce their travel times in the corridor, but will also enhance the region's transportation infrastructure," Georgia DOT Commissioner Russell R. McMurry, P.E. said. "Users of existing express lanes projects in Georgia, including the existing section of the I-85 Express Lanes, are telling us that using the lanes gives them time back in their day. This extension adds to our growing network of express lanes, which helps create a more connected metro Atlanta."

We are excited to add the I-85 Express Lanes Extension to our suite of express lanes in metro Atlanta," Chris Tomlinson, SRTA Executive Director, said. "Our Georgia Express Lanes offer drivers the advantage of more reliable trip times and valuable mobility options. The express lanes also benefits riders of our Xpress commuter coach service. We believe that our focus on multiple mobility options – tolling and transit – are key to enhancing the effectiveness of all of our state's mobility resources."

The project adds 10 miles of dedicated express lanes from Old Peachtree Road to Hamilton Mill Road that run alongside general purpose lanes throughout the corridor. Along with the existing express lanes, the extension creates a 26-mile express lane network into Georgia's northeast region.

The I-85 Express Lanes provide a reliable travel option along one of the state's most heavily populated areas. The lanes are engineered to ease congestion to and from Atlanta during the heaviest traffic hours, offering consistent trip times for commuters. The lanes are HOT lanes, free to vehicles with three or more passengers, and allow transit and registered vanpool customers to travel in the lanes toll-free.

In addition to the express lanes construction, a third general purpose lane was constructed to allow drivers a safe way to merge into traffic while also preventing bottlenecks caused by drivers attempting to enter and exit the interstate. Another mobility-improving future enhancement for the corridor will include a new interchange at the northern terminus of the extension, SR 324.

Drivers traveling northbound can currently access the express lanes extension at four locations, while southbound drivers can access at six locations beginning at Hamilton Mill Road, the northern terminus.

The system features dynamic pricing, with rates rising as demand increases. The minimum rate is $0.10 per mile. During periods of very low demand, per mile toll rates on an express lane facility may be replaced with a fixed toll of $0.50 per trip, regardless of the length of the trip. Through dynamic pricing, rates will adjust based on demand and traffic conditions to maintain traffic flow through the lanes. Drivers will see the price before the express lane entrance and be able to choose whether they want to pay to bypass congestion for more reliable trips times.

Vehicles with no more than two axles or up to six wheels may use the express lanes with a valid Peach Pass or a pre-paid toll account in Florida or North Carolina. Public transit buses, registered vanpools, and emergency response vehicles may use the lanes toll-free with a valid Peach Pass. All other vehicles, including motorcycles and electric vehicles, are required to pay a toll to use the express lanes.

To open a Peach Pass account, visit SRTA's website at PeachPass.com.
For Georgia State Official 511 website visit:
GA 511
source: Georgia DOT
NaviGAtor511 on Twitter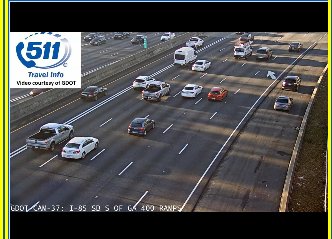 Accident. I-85 South past GA 400. (Mile 84.4) Right shoulder.
#FultonCounty
#511GA
https://t.co/z4XuZo1SMp
Traffic Nearby
More Local Information
Bookmark and Share